Testimonials
Home
> Testimonials
---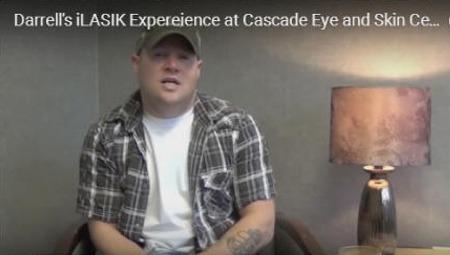 Darrell's iLASIK Expereience at Cascade Eye and Skin Centers
Published on Mar 16, 2012
Darrell shares his experience having iLASIK (blade-free LASIK) at Cascade Eye & Skin Centers. He answers many common LASIK questions from a patient's perspective.

Darrell was 32 years old, from Shelton, WA. He works on Tugboats, and is in the Army Reserve.

He took advantage of the zero percent interest financing. He chose Lasik to help further his careers, because 20/20 vision is required in his line of work. A friend had referred him to Harbor Lasik and Dr. Dahlhauser, and after meeting with him, Darrell found him to be very competent in the area of Lasik surgery.

After the surgery, it was nice to be able to wake up and see things around the room without putting on his glasses!
---
Haley's iLASIK Experience at Cascade Eye and Skin Centers
Published on Mar 16, 2012
Haley describes the fears she had prior to having blade-free, all laser, LASIK at Cascade Eye and Skin Centers. She explains the multiple ways it has changed her life for the better.

---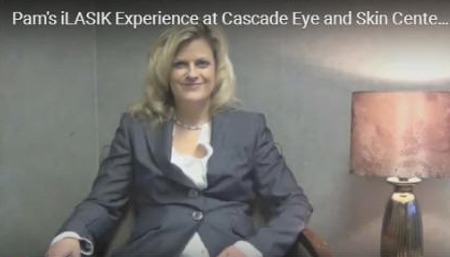 Pam's iLASIK Experience at Cascade Eye and Skin Centers
Published on Mar 16, 2012
Pam explains her LASIK experience with the doctors and staff of Cascade Eye and Skin Centers. She describes the procedure as being a great investment.

She lives in Puyallup, and is 33 years old. She had thought about having Lasik for years, but after doing through research, she found that the technology used in the Lasik surgery is one of the most important factors in choosing a Lasik Surgeon.

She was looking for an alternative to contact lenses. Lasik eye surgery was the answer. Watch her video to hear the details of her decision to choose Lasik surgery.

---
Barbara Ormiston - Re/Max Realtor
LASIK has opened up a world of clarity and color. I am amazed....
Thank you Harbor Lasik!
Sincerely,
Barbara Ormiston
---
Craig Marshall - Re/Max Managing Broker
Thanks for the "new outlook" on life. I couldn't believe how easy, painless and dramatic it was to have LASIK done to my eyes. Only 5 minute per eye and the next morning everything was brighter, clearer, and without glasses!

Regards,
Craig Marshall

---
Joanne P.
To the Staff of Harbor Lasik,

It has been less than a month and I am surprised everyday - I've worn glasses or contacts everyday since I was 8! I just came back from Spring Vacation and I was able to go "beach combing" and see shells smaller than a dime - without glasses!

I look forward to running this summer without my frames falling of my face. Everyone on the staff has a real interest in their patients. I saw it each time I came in.

Thank you!
Joanne P.
---
Lee Ann Kooley - Partner @ Day Island Boatworks
I have worn contacts and Glasses for the last 16 years. Going to Harbor Lasik was one of the best decisions I have ever made. Being in the boating industry and loving the water, it was difficult to enjoy myself and not worry about my eyes. Since my procedure, I have been able to fully enjoy swimming and boating. My recommendation is – Do Not Wait, look into what Harbor Lasik can do for you!!!

Thanks Harbor Lasik!

Lee Ann Kooley

---
Martin Peterson
A Fantastic Awakening!!
Great Staff - Great Results!!

Thanks Harbor Lasik.

Martin Peterson
---
Melissa Cobain
Simply life changing! The hours I have saved from dealing with cumbersome contacts is worth cost of LASIK. I am now able to enjoy all my favorite activities from swimming to kick boxing trouble free. I wish I would have done this fifteen years ago.

Thanks for everything,
Melissa

---
Mike Drake - Head Golf Pro @ Canterwood Country Club
Everyone at Harbor Lasik!

Thank you so much for letting me see again without the use of contacts. The whole staff was wonderful and the experience could not have been better.

I have been telling everyone!

Thanks again, Mike Drake

---
Tim Mason
Since having the procedure, I really wouldn't call it surgery since it was so easy and painless. I have been so happy!

For the first time in a very long time I am able to drive without glasses. I can even see the leaves on the trees!

I have been telling everyone I know about Harbor Lasik and how wonderful the experience was and is!

Thank you so very much for making such a positive change in my life!

Sincerely,
Tim Mason

---
Tom Gross - Colonel, USAF, Retired
My heartfelt thanks to the professionals at Harbor Lasik!!

I have had to wear glasses or contacts for over 47 years. Without corrective lenses,
I was unable to see much of our surrounding world ....couldn't define shapes....couldn't recognize people....not even those in the same room as me. I was the guy who could not see the E on the eye chart!

About 5 years ago, my eye doctor suggested that I would be a good candidate for LASIK eye surgery. After researching the process and all the technological advances, the only part I had real concerns about was the flap. Those concerns were put to rest after visiting your center, discussing procedures with your staff and learning more about the latest technology and equipment your professionals utilize to safely restore vision.

Thank you for enabling me to once again wake up in the morning and see that trees have branches and leaves....to see, without fumbling around for my coke bottle lenses, the beautiful features of my lovely w... Read More
---